V12 Tiger Derby Shoe - Black
Product Details
Tiger complements our Bison boot as one of the most slip resistant and comfortable uniform shoes available. Metal-free, the shoe features a composite toecap, a penetration resistant midsole and is fully lined with moisture-wicking material. The shoe benefits from the innovative IGS rubber sole unit, ensuring superb grip on all surfaces and increased cushioning underfoot.
Inspired by car technology and made from highly durable rubber, the IGS features a unique hexagonal tread ensuring superior traction, ladder grips offering advanced levels of safety and a re-designed heel strike pad to deliver exceptional water dispersal. 
Falling from height is the biggest killer in our wearers industries. Above and beyond safety boot requirements, the VR608.01 Tiger IGS has four strong, deep ladder grips and a well-defined heel to keep you sturdy and firm footed while climbing or descending ladders, and ultimately help prevent falls from height. These ladder grips are the first in the industry to meet the firefighter standard EN15090:2012. 
What's more, to protect you from aquaplaning, we have designed the heel strike of this metal-free black safety boot at 7ª, the angle at which most slips occur. Five angled splines provide increased contact with the ground, effortlessly cutting through water and dirt on every step, keeping you firm footed when you need it most.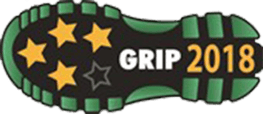 Most multi-purpose safety boots boast a 2 Star GRIP Rating at very best. With the Tiger Shoe's IGS sole, we can now offer a 4 Star GRIP Rating - the only multi-use sole that can offer such comfort on the market.
Full grain waxy Black Leather
Water Resistant and breathable
Reinforced stitching and bound bellows tongue edge for extra strength
Speed lacing system
Deep padded scoop collar
Padded fabric lining - moisture wicking and highly breathable - cool in summer and warm in winter
Full length footbed removable design. Double shock absorbing pads of memory foam offer high levels of comfort.
Wide fitting composite toecap, resistant to impact of 200 joules. Thermal insulated
Flexible corrosion resistant steel midsole
3D - a clever combination of 3 densities of polyurethane and rubber
Ensures high slip and abrasion resistance as well as comfort
Multi directional tread ensures good traction in a variety of conditions.
Sole heat resistant to approx 300 degrees centigrade
IDEAL For: Shop Floor, Office Workers, Tradesman, Warehouse, General Industry